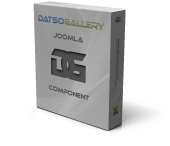 DatsoGallery helps you quickly and easily create multi-functional photo gallery with the ability to sell photos via PayPal. A component is incredibly simple to set up and easy to operate with a nice appearance. A set of parameters allows you to configure your gallery that meets your requirements.
Features
Ability to sell pictures (PayPal account is required)
PayPal transactions tracking
Unlimited number of categories
Unlimited number of subcategories
Individual categories/subcategories settings
Restricting access to categories/subcategories
Joomla! ACL support
Creating categories by registered users in front-end
Automatic generation of meta tags based on category/image description
GeoTagging
Native Comments System
Native Tags System
Gravatar support
JomSocial avatars support and link to profile
Community Builder avatars support and link to profile
Kunena avatars support and link to profile
Captcha in the comments for spam protection
Email notifications
Block Spammers by IP
Image rating by IP
Adding Images to favorites
Recommendation e-mail
Images search by their title and description
Watermark on the big and medium images
AJAX technology
Image download function
Support SlideShow
View big image using ajax library Shadowbox
Protection of the original image files using HTACCESS
Upload and manage picture in front-end by users
Multiple image uploading in front-end
Group Policy control
View most popular images
View most downloaded images
View best rated images
View last added images
View last commented images
View images from a particular user
Multilingual support
Standard upload images in front-end and back-end
Batch upload pictures in back-end
Batch importing of images in back-end
CSS Styles
and more...

Compatibility

System requirements
PHP Version: 5.2.17

²

, 5.3 +, 5.4 +
Version of MySQL: 5.0.4 +
Database Type: MySQL/MySQLi
Web server: Apache 2.x +
GD Library: 2.0.x
EXIF Support
Multibyte Support (mbstring)

Basic PHP settings

Safe Mode: OFF

¹

File Uploads: ON

¹

Zlib enabled: Yes

¹

Max Execution Time: 30

²

Upload Max Filesize: 8M

²

Memory Limit: 64M

²

¹ - required value
² - minimum value