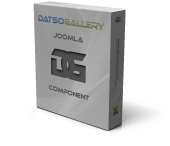 To your attention, the new
DatsoGallery 1.19
for
Joomla 2.5
available for download. This release includes several new features, enhancements and fixes relative to previous version. In detail you can see the list of changes.
List of new features, enhancements and fixes
:
Fixed a bug in Mass Moving of images, when click Cancel
Fixed errors in the individual categories parameters
Corrected typos in language files
Added additional rules for ACL. In total 13. The rules apply both to the frontend and backend.
In the global settings, View tab, added enhanced relative to the previous version, parameter Category Image in zones Categories view settings and Category view settings
In the Additional settings, View tab, add an additional parameter Custom Date and Time format.
In the options added parameter Recommend Image Public, that is, any site visitor can recommend a link to the image to his friend.
Other minor corrections related to javascript conflicts.
Updated jQuery library to version 1.7.2
Updated Plupload library to version 1.5.4

Update Instructions:
Updating performed by installation without affecting the records in database, your settings and image files. All necessary operations for updating will be performed fully automatically in one click.
After each update, you should open the configuration section of the component, check all settings (as in the new version may be added or deleted the old settings) and then, save the settings, the parameters have been applied to your setup component. This action is required.
Description, list of features and specifications for the normal functionality of a component can be found
here
. On the same page, you can see the DatsoGallery Admin Interface (see the screenshots on the left).
Demo available
here
, and downloaded the new DatsoGallery 1.19 for Joomla 2.5 can be from your active subscriptions to Premium Account.
And for a dessert, a completely new module
DatsoGallery Cloud Images
, which will further expand the possibilities of DatsoGallery! Description of a new product will be published in the following article. In the meantime, you can watch it
here
.