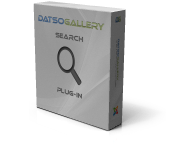 To your attention, an enhanced version of DatsoGallery Search Plugin 3.0 With this plugin owners of component DatsoGallery 1.8.5.x, will be able to search images in DatsoGallery component directly from the built-in search system Joomla. Searches can be performed by image title, description and author.
With the plugin parameters, you can include or exclude showing of thumbnails and designate the position for images in search results. DatsoGallery Search Plugin 3.0 designed for Joomla 1.5 (NATIVE). After installing the plugin, do not forget to enable and configure it in the Plugins Manager.

The plugin in action can be tested on this site. DatsoGallery Search Plugin 3.0 can be downloaded from your active subscription to Premium Account.