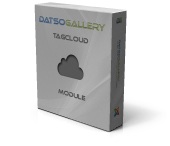 To your attention, two updated versions of the module Tag Cloud 1.9.5 for Joomla 1.5.x and Joomla 1.6.x/1.7.x to 1.13. Both has the ability to display the tags in an animated fashion over HTML5. Animation mode, if necessary, can be enabled or disabled.
Also, there are many parameters out of which the content of the module can be customized to fit your needs. Demonstration of a new TagCloud Module can be seen in action in the
gallery
on this site. The module, can be downloaded from your subscriptions right now.
Important Note!
Animation mode was tested in the following web browsers: Mozilla Firefox 9, IE 9, Google Chrome 15, Opera 11 and Safari 5. Other, less modern browsers or earlier versions of these browsers may not support the animation mode.