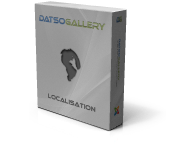 To your attention, available the full Czech language package for DatsoGallery 1.17 (J2.5) friendly provided from one of www.datso.fr customers. Except for a complete translation of a component itself, the package contains translations for some other Datso extensions, look at the details.
DatsoGallery Ultimate Module 1.16
DatsoGallery Statistics Module 1.10
DatsoGallery Categories Tree Module 1.16
DatsoGallery TagCloud Module 1.16
DatsoGallery Slideshow Module 1.16
DatsoGallery Search Plugin 1.17
DatsoPic Content Plugin 1.16
DatsoGallery Redirect Plugin 1.16
Plugin for Xmap 2.3
Language have been packed into one package so the installation will done in one click.