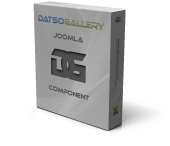 To your attention, the new version DatsoGallery 1.18 for Joomla 2.5 available for download. This release includes a lot of new features, improvements and several bug fixes, some of them can be found in detail.
List of new features, enhancements and fixes
:
To creation/edition categories in the administrative part of the gallery, added parameters of publication (creation date, start and finish of publication), the parameters of the view images in a category, the parameters of a page of image details relating to that category and, finally, the parameters of Meta. Too many parameters, so would not like to describe here every one of them. Some of the parameters is quite interesting and probably many will like them.
Added ability to create a menu items of categories by standard method of Joomla (finally).
The long-awaited support Joomla ACL
The function reset votes was informative and visually enhanced by ajax technology and moved to the component settings (Rating tab)
Added option to display the position of the rating stars. Directly below the picture or in its usual position (column on the left).
Improved the option Format date and time, because of the many complexes in this place. Now you need to select from the drop down list the appropriate format and save the settings.
Added ability to enable/disable the Captcha in the comments form.
Added two Russian social networks VKontakte and Odnoklassniki
Several visual amendments in the upload form.
A lot of other useful options and innovations...

Update Instructions:
Updating performed by installation without affecting the records in database, your settings and image files. All necessary operations for updating will be performed fully automatically in one click.
After each update, you should open the configuration section of the component, check all settings (as in the new version may be added or deleted the old settings) and then, save the settings, the parameters have been applied to your setup component. This action is required.
Description, list of features and specifications for the normal functionality of a component can be found
here
. On the same page, you can see the DatsoGallery Admin Interface (see the screenshots on the left).
Demo available
here
, and downloaded the new DatsoGallery 1.18 for Joomla 2.5 can be from your active subscriptions to Premium Account.